In-Line Process Refractometer


Modelo: UR-24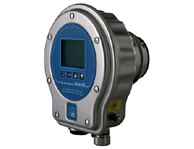 ---
*Self-contained, one piece construction
*All stainless steel housing conforms to USDA and 3A Sanitary Standards
*Superior corrosion resistance in wet environments
*0-95 °Brix operating range
*Accuracy 0.15 °Brix (Standard Accuracy model)
*Accuracy 0.05 °Brix (High Accuracy model)
*Additional User Range programmable from the keypad
*Automatic temperature compensation
*Abrasion resistant Sapphire prism
*Long life LED light source (Light Emitting Diode)
*High resolution CCD optical sensor (Charge -Coupled Device)
*Adjustable internal alarms
*Analog and serial outputs
*PC Software available for data collection, remote configuration and diagnostics
*Sanitary Tri-Clamp Mounting on the process pipeline or on a tank wall

The microprocessor-based UR-24 digital refractometer is a self-contained analyzer with multiple functions which mounts directly on the process line. It continuously measures the concentration, displays the temperature-compensated concentration value, transmits the value to both digital and analog receivers, and activates alarm relay outputs. The UR-24's unique state-of-the-art design incorporates many modern refinements such as: abrasion resistant sapphire prism, long life LED light source, and a high resolution CCD digital optical sensor.

The instrument's membrane faceplate contains a backlit liquid crystal digital display and input keypad. From the keypad it is possible to completely personalize and configure the instrument's measurement range, mA output signal and alarm outputs. The instrument also has an RS422/RS485 serial output for optional remote display or computer interface. A special Maselli adapter conveniently mounts the UR-24 onto a process line or vessel. Primary applications for the model UR-24 include food, beverage, dairy, chemical, petrochemical and textile industries.


Marca: Maselli Misure